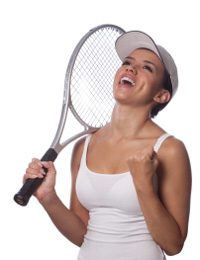 Tennis Elbow can be treated to reduce pain, restore flexibility, and increase muscle/tendon strength. The correct therapy treatment including education is vital. This tennis elbow program is best for people with elbow or forearm pain. We are the leading Experts in completely eliminating pain from this condition. You do not have to be a "Tennis Player" to acquire this painful condition. Our Tennis Elbow Therapy Program is the most comprehensive in Sarasota.
Even if you have not had success with other treatments for tennis elbow, this program is for you. This results in a more long-lasting relief and is highly effective in preventing a recurrent problem. We address the root cause rather than merely treat the symptoms.  Our advanced techniques will promote a fast recovery and may help conditions where all previous therapies have failed.
Benefits of Our Tennis Elbow Program:
Decreased pain.
Increased function of hand, elbow and wrist.
Improve your overall ability to do daily activities.
Avoid lingering affects of injury.
Reduce the risk of re-injury.
Start seeing immediate results.
Learn how to avoid future problems.
Increased flexibility & movement.
Eliminate your problem forever.
How long before benefits are realized?
The benefits are realized with the first treatment.
Be Wary Of…
Self treatment or thinking this problem will get better on its own…It is easy for us to fix however the treatment is not common sense.
Why Act Now?
Tennis elbow does reoccur if not treated early on or properly. Self treatment for tennis elbow pain can prolong pain and is not effective. Don't put it off any longer. The longer you wait the more serious you problem may become. Don't let your problem get to the point of no return. Early Treatment for tennis elbow pain is more effective, you don't have to live with the pain. Call Back In Motion, Sarasota Physical Therapy today and schedule and appointment.  We are the experts in eliminating tennis elbow pain forever.