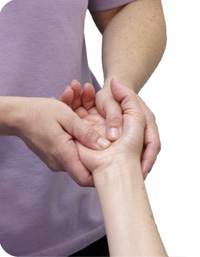 Carpal Tunnel Syndrome
Our carpal tunnel syndrome program uses techniques to ease the pain and activities that can help regain use of the hand for daily activities. You will also gain knowledge on how to prevent carpal tunnel. Wave goodbye to the pain. This program is best for people that have tingling, numbness, or pain extending up to the arm.
Even if you have not had success with other treatments this program is for you. We address the root cause rather than merely treat the symptoms. This results in a more long-lasting relief and is highly effective in preventing a recurrent problem. Our carpal tunnel syndrome program advanced techniques will promote a fast recovery and may help conditions where all previous therapies have failed.
Benefits of Our Carpal Tunnel Program:
Increased flexibility & movement
Learn how to avoid future problems
Reduced pain
Increased strength
Faster recovery period
Sleep better
Decrease numbness and tingling
Improved hand, wrist, and elbow use
How long before benefits are realized?
Reduce numbness and tingling after just one session.
Be Wary Of…
Commercialized splints that do not put your wrist in an optimal healing position.
Activities and prolonging symptoms that can cause long term damage to irritated nerves and muscles.
Physical Therapists who over use treatments such as Ultrasound, heat and ice.
Continued carpal tunnel syndrome symptoms after receiving treatments such as medication.
Getting carpal tunnel syndrome surgery prior to getting Physical Therapy first
Why Act Now?
Don't put it off any longer. The longer you wait the more serious your problem may become. At Back In Motion Sarasota Physical Therapy, we often see clients who have not gotten better after receiving treatment elsewhere.  We can help you reduce numbness and tingling after just one session. Contact us now and receive a FREE voucher for a ML830 Laser treatment.