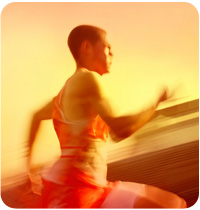 Our runners therapy program finds the true source of your pain & imbalances that contribute to the pain.  We develop a customized program so you can run better, faster and stronger than ever. This program is best for runners who are serious about their training. If you want pain relief so you can continue to run, then this program is for you. Don't let an injury keep you from running. We specialize in running and treating the foot and ankle.  Additionally, we offer FDA approved technology which facilitates a quicker recovery time and promotes healing.
We are the ONLY local CERTIFIED providers a revolutionary Laser guided shoe orthotics system called Aline that is highly effective in treating overuse injuries that affect runners. Rather than just treat symptoms we address the root cause of your injuries.
Benefits of Our Running Program:
Start seeing immediate results
Find the source of your pain on your first visit
Learn what to do to facilitate healing
Decreased pain
Restored motion
Increased function.
Avoid lingering affects of injury
Reduce the risk of re-injury
Learn how to avoid future problems
Increased flexibility & movement
Improve your overall ability to do daily activity
Learn how to have permanent results with education throughout our program
How long before benefits are realized?
The more chronic and severe the condition the longer it may take to respond, however results are usually noticed after only one visit
Be Wary Of…
Practitioners who don't look at your problem as a whole, tell you it will just take time, or just treat the symptoms. Be wary of programs run by non-licensed professionals. You should ask who will be administering the Running Program and what their credentials are.
Why Act Now?
The more you wait the more serious your problem may become. Don't let your problem get to the point of no return. Injuries can become more severe and more difficult to treat, catching them early helps get you back to running quickly. Don't let pain interrupt your training. Treating injuries helps prevent additional injuries from altered running form due to pain. Delaying treatment could result in taking longer to recover. Don't put it off any longer.