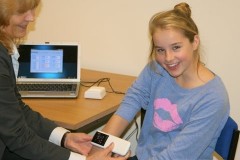 We at Back In Motion Physical Therapy are the only medical providers to offer this revolutionary healing device in Sarasota/Manatee County. The only other trained clinician in the state of Florida is located in Miami. Our trained Fenzian practitioner will use a range of carefully selected treatment protocols, which stimulate the body to repair itself naturally at a remarkably fast rate, using digital technology to communicate with the Central Nervous System….The aim of Fenzian is to promote healing and complete the  healing process. Without Fenzian Pain Relief Therapy, healing in the body can be a lengthy process that sometimes can take months, years, or longer.
GET THE SAME TREATMENT THAT PROFESSIONAL ATHLETES GET!!
Benefits of Fenzian Therapy include:
Safe for all ages including children and seniors
Non-invasive, safe and painless treatment approach
No negative side-effects
Eliminates chronic inflammation
Promotes healing
Relaxes and softens tight tissues
Loosens scar tissue
Improved flexibility
Improves circulation
Allows you to take less medication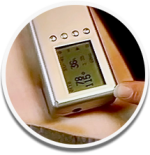 Fenzian Therapy has achieved dramatic results with:
(Please note, this is not a comprehensive list)
Osteoarthritis
Osteoporosis
RSD/CRPS
Fibromyalgia
Raynaud's disease
Sciatica
Frozen Shoulder
Headache and Migraines
TMJ
Neck and Low Back Pain
Hip Pain
SI Pain
Bone, muscle, nerve, tendon and ligament pain
Post-surgery of tendons and nerves
Muscle strains and ligament sprains
Carpal Tunnel Syndrome
Tennis elbow
Golfer's elbow
Hand and wrist pain/stiffness
Toe and ankle: ligament sprains, calcaneal spurs, metatarsal fractures, and plantar fasciitis
Knee: ligament damage including ACL, PCL, MCL, LCL, meniscal tears, and Osgood Schlatter's disease
Chronic, intractable pain
Post-surgical and post-trauma acute pain
Multiple musculoskeletal and respiratory disorders
Sports injuries
How long before results are realized?
Fenzian pain relief results are often realized within 24 hours after treatment. This treatment does not "wear off" like other traditional Physical Therapy modalities such as heat, ice and E-Stim. It promotes an underlying healing process, so if you do not reinjure the area the pain relief  is permanent.
Be Wary Of:
1) Going to a Physical Therapy Clinic in or around Sarasota Florida and getting treatment with methods that do not work. While heat, ice, ultrasound and electrical stimulation (e-stim) have their place in the treatment of some conditions, they can often be applied too often while not producing long lasting results.
2) Being at a Physical Therapy Clinic in or around Sarasota and being 'treated' by a Physical Therapist who is treating other clients at the same time. Warming up on a bike or a treadmill, or doing exercises on your own while the Physical Therapist is with other clients may not be the best treatment option to get you results.
3) Being 'handed off' by a Physical Therapist to an undertrained and/or underqualified PT Aid or PT technician. Often a Licensed Physical Therapist will do this in order to see multiple clients during the same time slot. At Back In Motion, Sarasota Physical Therapy we treat one on one with our clients using only licensed professionals.
Why Act Now?
You may have tried Physical Therapy before, but you have never tried Fenzian Therapy. This treatment works when traditional treatment methods have failed. You do not have to live every day in pain. Do not delay, the longer you wait, the more severe your problem may become. Call Back In Motion Sarasota Physical Therapy today at (941) 925-2700.
How Much Does It Cost?
Back In Motion Sarasota Physical Therapy is currently accepting medical insurance for the Fenzian Treatment. In most cases there is little or no cost. Call Today to ensure that we are still accepting medical insurance for this revolutionary treatment procedure.
This amazing FDA approved technology can even alleviate discomfort from CRPS/RSD. The article is titled; Cold Laser Therapy and the Fenzian Treatment SystemTM May help CRPS/RSD remission. After you click the link, skip to page seven for this extremely informative articleclicking on What A Miracle Device!
Heather C. Raves, "WHAT A MIRACLE DEVICE!"
Many professional athletes use the Fenzian Pain Relief System: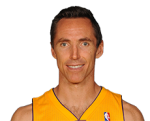 "My friend Todd MacCulloch from Philadelphia told me about the Fenzian Treatment System™ and how it relieved his pain and discomfort. Throughout the season I encountered a large number painful injuries to my body. The Fenzian dealt with my old nagging painful conditions and the immediate reduction of pain and discomfort of the acute conditions to my ankles, legs and upper body. I want to thank Todd for introducing me to the Fenzian Treatment System™."
-Steve Nash, Most Valuable Player, Professional Basketball (NBA)