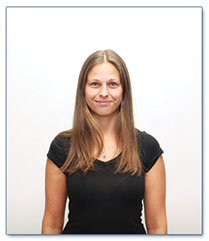 My Position On The Team
Administrative Assistant
What I Do Here at Back in Motion
Here at Back in Motion I schedule physical therapy for patients according to their needs. I also get therapy approved from the insurance companies when needed.
A Little About Me
I am a native to Sarasota. Outside of work I enjoy the outdoors. I like going to the beach kayaking and boating, fishing, and spending time with family and friends.
Words to Live by
"Life is like a box of chocolates. You never know what you gonna get" – Forrest Gump
What I Like Most About Working Here
I like that we are all like family. We do everything as a team. We all have the same goal, which is to get our patients to feel better. I like that we are helping all the patients who come through the door feel better and get back to their active lifestyle.
What Patients Say About Me
Patients like that I help accommodate them with scheduling. I answer their questions, and if I don't have an answer right away, I find the answer and get back with them in a timely manner.
What Patients Say About Back in Motion
Patients like the fact that we are a hands-on physical therapy clinic. You are one-on-one with the therapist during your entire session. Unlike most facilities that put you on a bicycle for you session, we help you do what you are unable to do on you own. This gives maximum results.