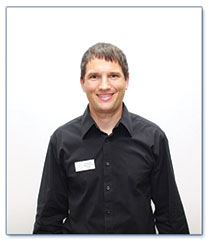 My Position On The Team
Physical Therapist Assistant, Rehab Manager
What I Do Here at Back In Motion
My daily work consist of delivering hands-on physical therapy interventions such as active isolated stretching, muscle strengthening, balance training, shoe orthotics fitting, soft tissue mobilization, and other manual techniques targeting joints, muscles, and verves. Apart form that, I also perform several administrative tasks in the background to ensure an well-functioning rehab environment for a positive patient experience
A Little About Me
I graduated from Niagara County Community College in Sanbor, NY. When I am not treating my patients, I enjoy spending time with my wife Shpresa and my son Sky (born in 2015). I also like cycling, swimming, going for walks at the beach, working out in the gym, and working in the garden. Traveling has been one of my big passions in life and I hope to find time in the future for further trips to exciting destinations around the world.
Words to Live by
"As is a tale, so is life: not how long it is, but how good it is, is what matters" – Seneca
What I Like Most About Working Here
I really enjoy going to work because our Back in Motion team is like a small family. We treat everybody the same way and welcome our patients to be part of our family. We all love to see our patients achieve their goals ad we try to make the stay at our office as enjoyable as possible. This atmosphere lets me also enjoy my days at work.
What I Enjoy Most About Caring for Patients
From my own experience, I know how challenging the recovery process after an injury or surgery is and that these challenges not only involve physical but also psychological aspects and hurdles. I love to guide my patients through those ups and downs during the rehab process and hopefully see them leaving our office with a smile on their face in the end. Patient care is an extremely rewarding service for me.
Why I Chose to Become a Physical Therapy Assistant
First and foremost, I chose this career because it was one of the two professions that I always felt passionate about. I love to train and educate my patients to enable them to manage and overcome their pain. Every day I see that I can make a difference with what I do and that tells me that I made the right career choice.
What My Patients Say About Me
According to patient feedback, it is my patience and kindness paired with my ability to explain and illustrate medical topics in an understandable way.
What My Patients Say About Back in Motion
I think patients love our focus on hands-on techniques and the fact that every patient receives full attention during our one-on-one treatment sessions.