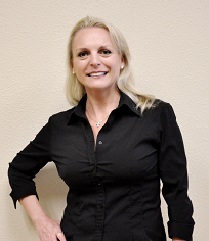 My Position On The Team
Nutritionist and CPT
What I Do Here at Back in Motion
I manage the Nutrition department and provide custom designed nutrition programs to help all individuals achieve their goals. I am also a Certified Ideal Protein coach where I provided weekly support sessions and on-going education and support. Ideal Protein was nominated the #1 weight loss diet for 2015!
A Little About Me
Originally I am from England. I have lived in several interesting places in the world, including London and Parts of Spain for several years. I love to travel. When I am not at work I spend my free time with my children, Chelsey who is 21, Jack, 11, and Lily, 10. Then there is my youngest but biggest kid, who is 5 yrs old and 100 lbs –my Golden Retriever, Marley.  We like to go swimming, biking, and tennis as a family. When I am not with my children I work as a Personal Trainer fro a private gym where I train special populations. On other other days I work out and watch my favorite sports team Kentucky Wildcats basketball.
Words to Live by
"Live the life you've imagined." – Henry David Thoreau
What I Like Most About Working Here
Every day I love coming to work because the people I work with are my family; we work as a team as our goals are the same. We want to see all our patients and clients achieve their goals, that is why we have such a positive environment.
What I Enjoy Most About Caring for Patients
From my own experience having challenging issues with weight gain and loss, growing up around family members who struggled with carb, sugar, and emotional eating addiction, I can relate to all my nutrition clients. So it gives me a great sense of satisfaction when I help them overcome these addictions. Plus, it gives me a great feeling of success and pride when my dieters achieve their goals.
Why I Chose to Become a Nutritionist and Personal Trainer
I chose this profession as I have a strong passion to help people achieve their goal getting healthy and living a healthy, fulfilled lifestyle. It is an honor to help people who have been placed on medication for diabetes, cholesterol and hypertension, seeing them gaining health and reducing or even eliminating their dependence on these medications.
What My Clients Say About Me
According to my dieters, they can tell I truly care about their well-being. They love that I listen intently to them and that I am always available for them–something especially helpful during difficult times ooutside of normal office hours.
What My Clients Say About Back in Motion
Dieters feel our organization truly cared about their success. Clients love the fact that even after they achieve their goals, we have an open door policy, inviting them to come back at any time for additional support and coaching.