Three Simple Steps To Arthritis Pain Relief
If you suffer from arthritis pain, you are not alone. According to the Center for Disease Control & Prevention (CDC):
-Nearly 1 in 2 people may develop symptomatic knee OA by age 85 years
-Two in three people who are obese may develop symptomatic knee OA in their lifetime.
-1 in 4 people may develop painful hip arthritis in their lifetime.
Usually, the first thing most individuals try is nonprescription over the counter medications (like Aspirin, Tylenol, Advil, or Aleve) for pain relief. If this doesn't work, the pain may increase to the point that surgery becomes a possibility (joint repair or replacement).  An individual should consider Physical Therapy prior to Surgery in most cases. 3 simple steps to arthritis pain relief are as easy as 1-2-3.
How do you manage arthritis?
There is no one best way to manage arthritis pain, and no single technique that is guaranteed to give you complete arthritis pain relief. The Physical Therapists and Occupational Therapists at Back In Motion have specialty training in the management and treatment of arthritis related pain and stiffness. In fact, a combination of methods usually works best. Think of arthritis pain management as a continuing journey. And this is your travel guide – you can pick your itinerary based on how mild or how severe your symptoms are.
Step 1: Learn about your arthritis pain
Patient education on arthritis pain relief is a very important step in pain management, according to the American Pain Society. Learn all you can about your arthritis so you can break down the mental roadblocks. For Example, do you know the difference between Osteoarthritis and Rheumatoid Arthritis? How you manage each of those conditions can be very different!
Exercise Is Your Answer
Step 2: Restore your muscle balance
Regain posture for arthritis pain relief. Proper posture is VERY important. Years of compensating for a sore/painful knee or hip can result in pain in the hip, knee, or even the ankle. Sitting slouched for hours, or jutting the abdomen out when standing can lead to low back pain. Our therapists can observe how you sit, stand, and walk and teach you how to adjust your posture to decrease the stress on your joints.  We help you move with less pain. Think of your Physical Therapist as a tool to correct posture. We can do things that sometimes you just can't do for yourself to correct and modify postural problems. Sometimes it just takes a 2nd set of hands to get this accomplished.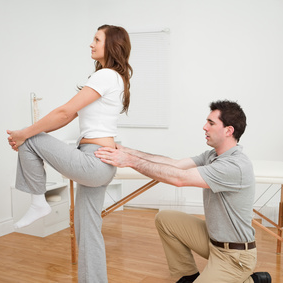 Exercise
Contrast bath
Use warm water (110 deg F) and cold water (65 deg F) for areas like hands and feet. Put your hands/feet in warm water for 5 minutes, then in cold water for 1-2 minutes. Repeat this process up to 3 times to help decrease pain and swelling in the joint.
Cold therapy.
This includes ice pack, cold compression wraps, or ice massage. It works by decreasing the blood flow to the area to decrease swelling, and reducing the pain signals to the brain (making it less painful). After an acute flare-up, for the first 48-72 hours, use ice for up to 15-20 minutes to decrease pain and swelling.
Rest.
Be sure to rest the injured part. You can either relax your entire body, or the joint specifically by wearing a brace to protect and support the joint. Not all braces are created equal. Our therapy team are the leading experts in brace selection.  We also have most in stock and take insurance so there is little or not cost to our clients in most cases.
Please feel free to pass on this information regarding arthritis pain relief to friends and family. You can also call Back In Motion, Sarasota Physical Therapy at 941-925-2700 to see the options we have to help you get relief from your arthritis pain.