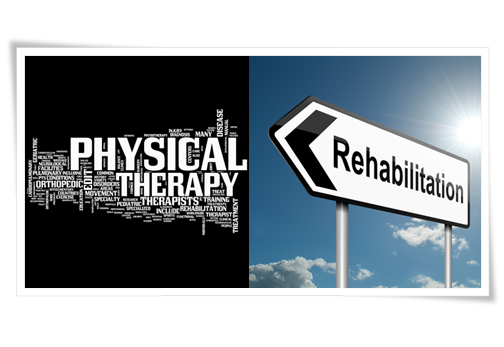 Post Surgery Rehab And PT.
How can physical therapy help?
The key to post surgery rehabilitation is Physical Therapy. The recovery times for orthopedic surgery can take 6-12 months and be quite painful. A resting period or immobilization can be required before starting your rehab.
A skilled physical therapist can restore your  strength, activity and range of  motion following  surgery. PT can teach specific exercises, stretches and techniques to guide you through your recovery. In addition, they can use special equipment which can quicken the healing process.  This specialized equipment can also make the tissues more resilient to future re-injury.   Some physical therapists also use massage therapy to treat soft tissue and aid in circulation.
Why is physical therapy so important?
Without physical therapy your recovery can become longer and more difficult. You may not experience a good range of motion with joints and the flexibility of muscles. Normal activities, such as climbing stairs, reaching overhead, or simply getting up from a chair can be affected long term. With proper therapy, normal everyday activity can be restored.
Furthermore, after surgery scar tissue forms and soft tissue contracts. Proper stretching ensures that scar formation does not impede your recovery.
What is the difference between inpatient rehab and outpatient rehab?
Inpatient rehabilitation is a stepping stone in the recovery process.  The person may have a complex medical condition or a problem that was severe. That particular person may not be ready to 'go home', but may be ready to get out of the hospital.  In this case, inpatient rehabilitation may be indicated.  Inpatient rehab typically consists of 3 hours of therapy per day.  This may include physical therapy, occupational therapy and speech therapy.  The patient sleeps, eats, and performs 3 hours of therapy for 1 to 3 weeks while attending inpatient rehab.
The patient then progresses to going home.  At this point, the patient typically will receive either home health or outpatient therapy.  Outpatient physical therapy is typically one hour or less per session.  When attending outpatient, the person lives at home, and travels to the outpatient rehab facility for the physical therapy or rehab services.  The client travels home that same day after completion of the physical therapy or rehab session.
How to choose the right outpatient clinic or inpatient rehab hospital:
Not all outpatient physical therapy clinics are the same.  Many places use an under trained, non licensed physical therapy technician.  Additionally, many places have PTs who treat more than one physical therapy client per slot.  We encourage you to read reviews online.  We encourage you to visit prospective PT clinics and to get a tour.  Word of mouth can also be a powerful influence in your decision.  The physician may have a place he or she recommends but be wary.   The first and only choice offered to some clients are Physician Owned Physical Therapy Clinics (Also known as POPTs).  Physicians in some cases have financial interest with PT clinics. This is why the team at Back In Motion, Sarasota Physical Therapy encourages you to employ tactics such as visiting a PT clinic for a tour.
Research Back In Motion, our dedicated team of healthcare professionals are eager help you get better effectively.  Most of our referrals are word of mouth and we have many positive online reviews.  Call or email us today and schedule a free tour or just come by.  We are happy to accommodate you or a loved one.