I have been Working with Chiropractors for over 15 years as  a Physical Therapist at Back In Motion. Having heard comments from clients with both positive as well as negative experiences. If you have been suffering from pain or lack of motion for more than a week, Chiropractic Therapy or Physical Therapy may be needed.
Do your Research
Your decision should be made based on the practitioner, not the practice. Simply put, don't see a Sarasota Chiropractor because you think you need adjustments. And don't see a physical therapist because you think you need exercises.  See a professional in either field who you have heard good things about. Do  your research and decide based on your needs. All Chiropractors do not practice the same way, nor do all Physical Therapists.
See Chiropractor vs. Physical Therapist for a detailed comparison chart.
Be Wary Of:
1) Practitioners who overuse items or equipment where they set you up and walk away. Such as Electrical Stimulation, Ultrasound, Motorized Massage Tables or traction devices. These types of treatment do have a place. The main question you should be asking yourself in any case is "Am I getting better". These types of treatments will make you feel better in most cases for a brief period of time, but the pain may return hours or days later.
2) Paying a large sum of money for the dream of being healed. We have all  heard of clients having paid $1,000's of dollars and  being promised a package would  get them completely better. You should expect the cost of care to be affordable to you or a payment plan should be offered. Also, we take all medical insurances. However  we sometimes get people coming in with high deductibles or high co-pays. As well as those who do not have medical insurance. We have affordable 8 visit and 16 visit packages and we offer a 100% money back guarantee.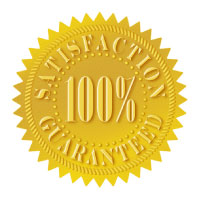 3) Practitioners who keep you coming in long term. Some Chiropractors as well as Physical Therapists will see a client until the insurance runs out, then discharge them. Our clients receive fast acting same day relief with long term results. Clients  are typically better in 6-8 visits. Our philosophy is to get permanent results fast, so you are pleased. If you are happy with your treatment, you may refer us family and friends!
4) Practitioners who use under trained or under qualified low wage employees.  Some therapists and chiropractors  use technicians to actually render the care. Therefore limiting the forward progress and overall results. It also can be against insurance regulations in some cases. We  would rather deliver exceptional care with the appropriately trained  therapist to obtain fast acting relief.
Why physical therapy at Back In Motion versus a chiropractor?
The first reason is because BACK IN MOTION goes to the root of your problem and not just merely treat the symptoms. We don't expect you to come to us for prolonged periods of time. Most patients get better within 6 to 8 visits.  We often work together with Chiropractors for optimal results. We use muscle energy, posture balancing, along with joint mobilization, and hands-on soft-tissue techniques to bring about fast healing. You will notice the difference. A common misconception is that you need a Doctors Prescription to attend Physical Therapy. That is a myth. Florida is a "direct access state" meaning that consumers can get  Physical Therapy and no Doctors prescription is required. You will not need a Doctor's prescription to see a Sarasota Chiropractor as well.
If you are suffering from a condition that is limiting your function, causing you a safety concern, causing you pain or negatively impacting your daily life, then  go see your favorite Chiropractor or Physical Therapist in Sarasota, FL. If you need a Sarasota Chiropractor, but are unsure of who has a great reputation or if you need a recommendation simply call our office and we will point you in the right direction with at least 2 choices. DO NOT just randomly go see a particular practitioner because they have the best ad in the phone book or because they are the most conveniently located for you. Take your time and get word of mouth. DO NOT continue to see a Chiropractor or a Physical Therapist if you do not feel as though you are improving with your condition. We all have time for you, and we all want to help.