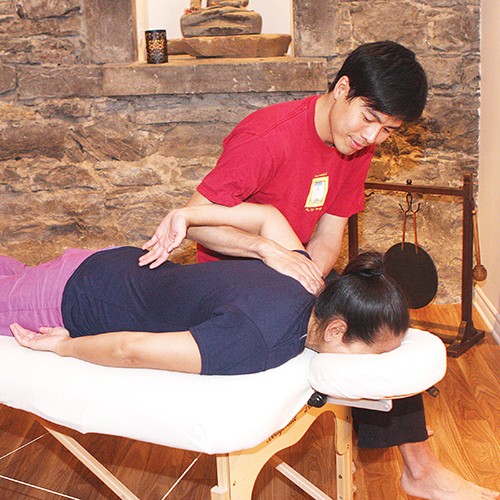 Table Thai massage is highly versatile. It uses techniques practiced in traditional Thai massage and also incorporates Swedish massage methods. Traditional Thai massage is practiced on a mat on the floor and uses yoga stretches, acupressure, and opens energy lines to increase energy with long lasting effects. The client remains clothed to facilitate the activity, and create trust and comfort with your therapist. Table Thai massage uses the same methods on the floor but instead on a Western style massage table. Using Thai methods on a massage table enables you to enjoy all of the benefits of both Thai and Swedish Massage.
Thai massage on the table can benefit you in many ways. It frees blockages in your body's energy flow, stimulate your nervous system, and relieve pain and muscle tension. Thai table massage is also good for improving your blood flow circulation, increase your flexibility, and relieve back pain and sciatica. Clients love the way they feel after a Table Thai massage, reporting less muscle pain specifically in the neck, back, and legs!
Call Today to book your Thai on the Table massage with our certified massage therapist!!!