Tennis Elbow and Physical Therapy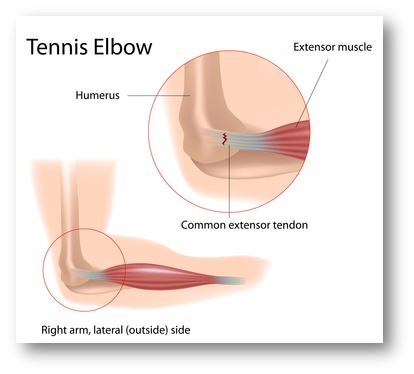 You do not have to be a tennis player to get a condition commonly known as "tennis elbow".  This painful condition is not restricted to those who play tennis. Tennis Elbow also known as lateral epicondylitis is a diagnosis made when an inflamed tendon contributes to pain and soreness around the outside of the elbow. The lateral epicondyle is a bony region at the outside of the elbow for which the tendons on the back of the forearm attach to.
Tennis elbow is considered a repetitive movement injury. The name "tennis elbow" is derived from repetitive movements that commonly occur when playing tennis. During a backhanded tennis swing, the vibratory force of the ball hitting the tennis racquet travels up the forearm musculature & ends at the bony region where the tendons attach (a tendon attaches muscle to bone). This repetitive vibratory force and repetitive movement can cause lateral epicondylitis or "inflammation of the lateral epicondyle"
Symptoms of tennis elbow such as pain & soreness are more evident when the palm is turned up or 'supinated'. Pain and inflammation in the tendons at the forearm makes the hand, wrist & forearm movement uncomfortable & may alter your everyday activities.
There are many repetitive motion activities which can contribute to tennis elbow. Here are a few: working on an industrial machine, desk job (typing), painting, cooking & working out in the gym. Of course sports other than tennis can cause tennis elbow. Tennis elbow can also be caused by a direct blow/trauma to the tendons & muscles of the elbow region.
The Road to Recovery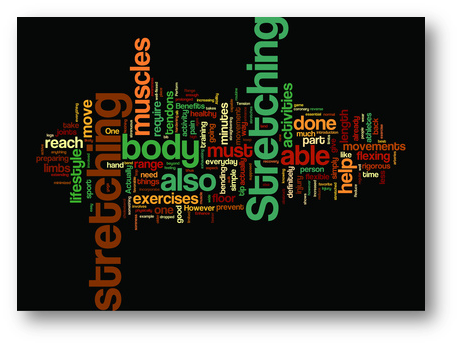 Tennis Elbow Treatment:
The team of licensed Physical Therapists and Occupational therapists at Back In Motion Sarasota Physical Therapy will assist you in eliminating your pain & use the latest techniques and equipment to decrease inflammation.  Elbow pain relief can be simple but if left untreated or misdiagnosed, can become more severe and problematic.
Our tennis elbow treatment will improve your flexibility first and then progress to the appropriate gentle progressive strengthening program for your hand, wrist, forearm and elbow. We will teach you how to perform the stretching and strengthening movements at home and give you a custom, individualized computer generated easy to read home based program. Not only will we fix your problem, but we will get to the root of the problem and teach you how to prevent injury in the future.
Back In Motion Sarasota Physical Therapy will work closely with you.  Treatment goals will be: to improve circulation, promote healing & to get you back to normal pain free function quickly. Your Physical Therapist will:
Find out what caused the tennis elbow in the first place & then teach you how to avoid putting stress on the elbow
Find out muscle balance problems with flexibility & strength testing
Promote healing with use of FDA approved revolutionary equipment
Create a custom home based exercise program to get you better quicker.
Explain your home based program to you so you understand it and perform it
Helping You Every Step of the Way…
Back In Motion Sarasota Physical Therapy is your solution to recover & prevent future tennis elbow injury. Our PT will help you every step throughout the process of receiving physical therapy and with aftercare for permanent pain free living.
If you think you may need tennis elbow treatment, ask your physician if physical therapy is recommended. You do NOT however need a physician prescription in Sarasota Florida to receive Physical Therapy as the state of Florida is a "direct access" state for physical therapy services. Call us directly at (941) 925-2700 & our office staff will be happy to schedule an appointment based on your needs.
Not only will Back In Motion Sarasota Physical Therapy answer the question: What is tennis elbow?", but we will customize an individualized exercise program. You do not need to live with the nagging discomfort & limitations of tennis elbow anymore. Contact our office today. Our goal is to get fast acting long lasting relief AND to empower you with the knowledge on how to prevent this from ever happening again.