Symptoms of Diabetic Neuropathy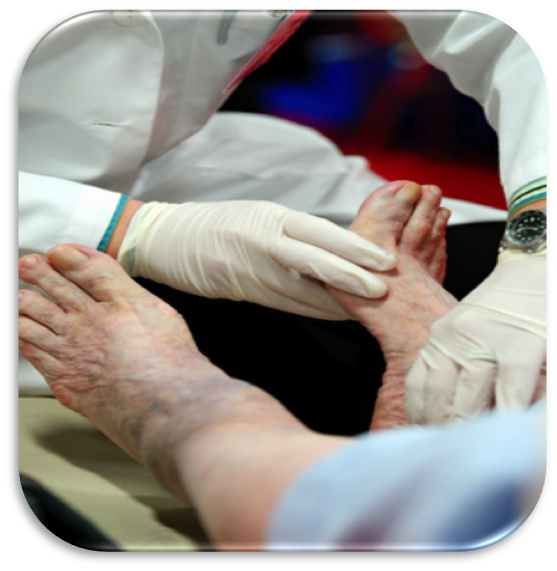 Many of those who have a diagnosis of diabetes are affected by type 2 diabetes. Diabetes occurs when your body either ignores insulin or your pancreas won't create enough insulin. Many people we come across at Back In Motion Sarasota Physical Therapy associate having diabetes with "sugar". Having diabetes can lead to many, many other health related problems. Knowing the facts about diabetic neuropathy is important for self awareness.
Type 2 diabetes can be delayed, possibly even prevented, with a healthy lifestyle. Diet and exercise are 2 critical components of a healthy lifestyle. When ignored (or if you are unable to make the appropriate lifestyle changes) diabetes can lead to serious health complications such as: stroke, high blood pressure, loss of vision, kidney failure, heart disease, poor blood flow and nerve damage, just to name a few.
Neuropathy (nerve damage) is a very real and serious complication which can arise in those with diabetes. People with a diagnosis of diabetic neuropathy may experience these problems by themselves or in any combination:
Lack of sensation
Weakness
Numbness, tingling, burning, or pain in toes, feet, legs, hands and fingers
Heavy, achy tired feet
Severe cramping
Severe skin sensitivity
Decreased coordination/balance
indigestion/nausea/vomiting
problems with urination
Lack of sensation or diminished sensation in the feet for example can be a particularly unfortunate symptom for some diabetics because small cuts can go without notice. This can lead to the wound becoming larger & infectious. Diabetic wounds can be difficult to heal and can lead to other serious complications
Diet and Exercise.
Most treatments for diabetic neuropathy focus on slowing the progression of the neuropathy by controlling blood sugar using lifetyle modification techniques. Physical therapy (PT) is critical because regular exercise plays an important role in the management of diabetic neuropathy.
The management of diabetes requires self-discipline and regular monitoring of one's glucose levels. In addition to maintaining a healthy weight & controlling blood sugar, it's important to exercise regularly, control blood pressure (by taking the correct medications, diet, exercise, stress reductions etc), quit smoking & decrease your alcohol intake.
Facts About Diabetic Neuropathy
Back In Motion Sarasota Physical Therapy can play a integral role in diabetes management with structured exercise and by using the latest FDA approved technology available in the physical therapy community today. Our Physical Therapist (PT) can lessen the risk of injury and improve muscle coordination, control & strength.
Our Physical Therapist will assess you to find out the amount (& severity) of damage to your nervous system. The goal of the Physical Therapy treatment is to re-educate the nerves & muscles to function appropriately. This may involve a variety of techniques and different types of FDA approved equipment. Each person is unique in how they respond to diabetic treatment and on the treatment of diabetic neuropathy. We cater our treatment to the individual needs of each and every client.
This makes the physical therapist a critical component of your healthcare team & a giant ally with your war against diabetic neuropathy. If you have been diagnosed with diabetic neuropathy and have not yet been to our clinic for diabetic neuropathy treatment, you are doing yourself a misjustice. Call us today at (941)925-2700. You will be glad you did.