And Some Common Causes of Joint Pain Are…..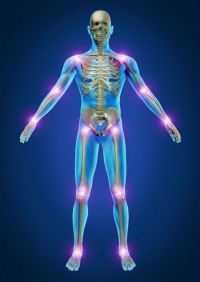 Joint pain is a common problem in Sarasota Florida. The team at Back In Motion Sarasota Physical Therapy performs joint pain treatment everyday. No drugs, no injections, no side effects. There are many causes of joint pain: degenerative processes (arthritis) or various types of injuries which can affect the ligaments, cartilage or bones. There are over 200 joints in the human body (some say over 300).
Joint pain can occur anywhere on you from your head to your toes. Joint pain is especially common in the senior population, but people of all ages can suffer with joint pain. Joint pain can occur with a sudden onset and be sharp and painful (acute joint pain). Conversely, joint pain can be long lasting and can be dull and achy (chronic joint pain). Bursitis which is an inflammation of the bursa sac, is one of the many causes of joint pain. Bursa sacs are fluid-filled sacs that cushion, provide lubrication and pad bony regions of the body. This lets muscles and tendons move freely over the bone.
Some other causes of joint pain include: both rheumatoid arthritis and osteoarthritis, injury, prolonged abnormal posture, repetitive motion, strains and sprains. Joint pain can sometimes occur with other symptoms such as pins and needles, lack of sensation, or weakness in and around the joint.
Joint Pain Treatment
Joint pain treatment in many people, can be treated with gentle and progressive, supervised exercise which is exactly where the team at Back In Motion Sarasota Physical Therapy can help. The correct type of exercise can also help you reduce or maintain your ideal weight, which helps minimize stresses on weight-bearing joints such as the hip and knee. If you feel your joint pain is too severe for exercise and/or physical therapy, and is causing you to gain weight don't worry. There are many causes of joint pain and being overweight is one of them. We have a solution for severe joint pain due to weight gain. Check out: Ideal Diet Sarasota.
Walking is an easy exercise and can be especially good for many types of joint pain. To start a walking program, all you need is an appropriate pair walking shoes or running shoes. As general rule running shoes can be used for walking but walking shoes should not be used for running. Doing little things throughout your day such as purposely parking away from the store entrance can force you to walk longer distances. Using steps and stairs whenever possible is another trick to get some increased activity throughout the day.
Causes of joint pain vary, but a warm bath or ice pack can provide some short-term pain relief. Your doctor may ask you to stop any activity which makes the pain worse, and to get evaluated by a physical therapist. Physical Therapy is always indicated prior to total joint replacements or other surgical intervention when considering joint pain treatment
Gentle and gradual progressive stretching can be an excellent way to lessen joint pain. The licensed physical therapists at Back In Motion Sarasota Physical Therapy are certified and have specialty training to perform Active Isolated Stretching (AIS). Please consult a physician or a physical therapist before you start stretching. At Back In Motion Sarasota Physical Therapy, NO physician prescription is required. Florida is a direct access state for Physical Therapy services. We are a preferred provider in Sarasota Florida for Physical Therapy services for Medicare recipients.
Will The Joint Pain Just "Go Away On Its Own"?
Joint pain is an indication that you may need professional help. Causes of joint pain vary, but it most cases it will not just go away on its own. In many cases, if left untreated the condition can become more severe. Joint pain can be a result of a new or unknown condition.
Back In Motion Sarasota Physical Therapy will perform an individualized and custom assessment using the latest techniques and revolutionary equipment to diagnosis and treat your joint pain. A detailed history from the client is sometimes helpful. Be ready for your PT to ask you the following questions:
What initially caused your joint pain?
What currently makes your joint pain worse?
Which joint hurts? Does the joint pain radiate?
Is the pain on one side or both sides?
How long have you had this pain?
Have you ever had this problem before?
Describe the quality of pain? (Is it achy, sharp, dull etc)
Do you recall injuring yourself?
To find out more about how Back In Motion Sarasota Physical Therapy can help you minimize or resolve joint pain, call our team now at (941)925-2700 and schedule an appointment. Stop living your life in pain. Feel better, move better, live better. We are the local experts around Sarasota Florida to heal painful conditions such as joint pain with no pills, no injections, and no side effects. We want to improve the quality of your life and help you live a pain-free lifestyle.