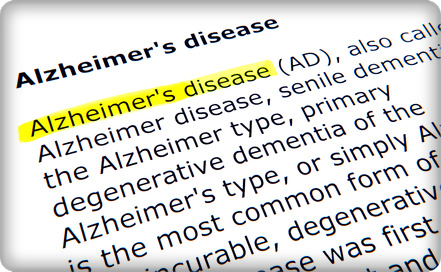 Can physical therapy help with Alzheimer's disease? That is a common question I get from family members and/or clients taking a tour of Back In Motion, Sarasota Physical Therapy. Alzheimer's disease can be a chronic, progressive, degenerative condition that causes people to slowly yet gradually lose their memory and, eventually after a period of time,the patients can slowly lose control over other bodily functions. It is considered by many a disease that can void independence & dignity from those who acquire Alzheimer's disease.
Traditional medicine has been unable to find a cure, although it is possible to slow down the rate at which the disease progresses. Exercise helps maintain quality of life, and it becomes even more important as the disease progresses.
Why physical therapy?
The team of Physical Therapists and Occupational Therapists at Back In Motion, Sarasota Physical Therapy www.backinmotionfl.com are licensed professionals.  We are trained to help patients with several types of neurological disorders including Alzheimer's. We can offer a superior team approach with utilization of both skilled Physical Therapy as well as skilled Occupational Therapy both which have been proven to increase the independence of those diagnosed with Alzheimer's disease. The physical therapist &/or occupational therapist can recognize the challenges associated with different stages of the disease and therefore we will design a treatment program as an adjunct to traditional medical treatment.
Living With Alzheimer's
Can Physical Therapy Help With Alzheimer's Disease??
The benefits of physical therapy & occupational therapy in Sarasota include:
Improved balance, walking  and decreased fall risk
Improved muscle strength and tone
Increased independence
Planning for assistive devices to enable daily activities
Treatment approaches include:
1. Balance therapy
Our Physical Therapy team have specialty training in balance. We are Certified Balance Therapists trained by the American Institute of Balance (AIB). Can Physical Therapy Help With Alzheimer's Disease?  Balance Therapy may consist of specific exercises to improve balance. These exercises can involve simple tasks like standing on one leg or standing with the feet close together and may progress to more challenging tasks as the Physical Therapist or Occupational Therapist may decide. Items such as straight canes, quad canes or walkers may be provided to improve safety and we have these in stock at Back In Motion, Sarasota Physical Therapy. If an assistive device such as a cane or a walker is required, the licensed physical therapist or occupational therapist will both set up the device as well as train the client on how to use the device for maximal safety and effectiveness. Supervised balance therapy enables the patient to improve gradually, and the overall use of the assistive device may be gradually reduced or eliminated.
2. Therapeutic exercise
Walking on even and uneven surfaces as well as steps and stairs and are examples of exercises that can improve muscle tone, mobility, & flow of blood. The therapist will be one on one with the patient at all times. Stretching exercises such as Active Isolated Stretching can help to minimize muscle tightness & promote flexibility.
3. Massage therapy
We have both male and female licensed massage therapists at Back In Motion, Sarasota Physical Therapy. This form of treatment is can calm the patient and reduce the clients stress level. Stress levels can run high in day to day attempted activity with an Alzheimer's patient. Alzheimer's patients therefore can understandably experience a high degree of frustration. Verbally calming the patient is useful, but the effect of touch and massage therapy can be extremely useful and should be considered in addition to your Physical Therapy and Occupational Therapy.
4. Assistance with activities of daily living
In severe cases, the loss of independence is so significant that a patient cannot bathe or use the bathroom independently. The physical therapists and occupational therapists at Back In Motion, Sarasota Physical Therapy are able to help patients learn to manage these tasks with a combination of exercises, assistive devices & training.
We are a Team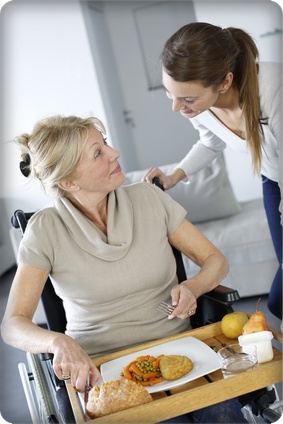 Can Physical Therapy Help With Alzheimer's Disease? Our team of physical therapy, occupational therapy and massage therapy can help maintain the patient's independence and dignity. The truth is, Alzheimer's gets worse over time and can affect memory, thinking and behavior. This can possibly take a significant toll on family members from an emotional as well as a physical standpoint.
As an integral part of the healthcare team, Back In Motion, Sarasota Physical Therapy will design a customized exercise program and work closely with family members to implement some of these exercise guidelines at the home level. Just as importantly, the physical therapist &/or occupational therapist can educate family members about the do's and don'ts of exercises and daily activities.
The majority of Alzheimer's patients are aged 65 or older, but this is not a normal part of aging. If you suspect that someone may be suffering from Alzheimer's, have him or her give us a call at Back In Motion, Sarasota Physical Therapy. We can be reached at (941) 925-2700. We are preferred providers with Medicare as well as most major medical insurance providers. We do NOT need a Doctor's Prescription in the state of Florida to Evaluate under Medicare for Physical Therapy services.
So when I am asked:"Can Physical Therapy Help With Alzheimer's Disease?", there is much more to my answer than "yes" or "no". At Back In Motion, Sarasota Physical Therapy we want to help everyone live with freedom and dignity. We are here for you and hope to be of service.