Working regularly takes up a significant portion of our daily lives.
Here are some tips to prevent low back pain when at work: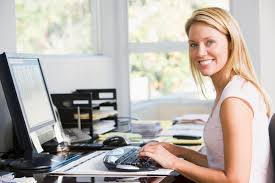 1. Use an ergonomically designed office chair with a stable base (5 legs in a star shape) that is adjustable in height and the seat back is adjustable in both height and tilt.  This can significantly decrease your chances for getting low back pain.
2. Arrange your workstation so that the computer monitor is at horizontal eye level.
3. Use a footrest if your feet are dangling.
4. Adjust the chair height so your shoulders and elbows are completely relaxed.
5. Keep the computer screen and keyboard in front of you, so you are not twisting and place the screen at arms length.
6. Do not cross your legs.  Crossing your legs can contribute to low back pain.
7. Every 20-30 minutes change your position.
8. Try to walk in the lunch hour or, if you have time, visit a gym or swimming pool.
9. Try to use the stairs at work instead of using the elevator
10. Do not cradle the phone between your ear and shoulder because it puts a lot of strain on your neck.
Don't forget to eat healthy and maintain a healthy weight to keep low back pain in check.  It is NOT always common sense.  Finds out tips and tricks, losing weight is not what you think.  It's NOT about eating a balanced diet, skipping meals or exercising.  It's NOT what you think.  Those are good ways to keep weight off, but not the best way to LOSE WEIGHT FAST.
Call Back in Motion Physical Therapy to schedule a visit today! We treat a wide variety of low back pain conditions.  We have a very high success rate in getting to the root cause of the problem and eliminating your low back pain complaints forever.